St. Luke's Lecture 1991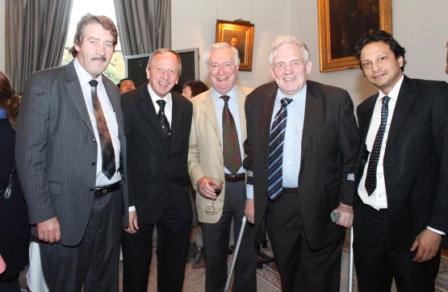 07/03/1991 in Royal College of Physicians of Ireland, 6, Kildare Street, Dublin 2
Mr. Gerald O'Sullivan, Cork
Immunology of Gastro-Intestinal Malignancy – Opportunity or Obstacle to Therapy?
This being the sixteenth St. Luke's Lecture since its beginnings in 1975.
A Word of Sadness
Professor Gerry O'Sullivan, passed away on Feb 12th 2012.  He was a greatly respected gentleman, admired by one and all.  He was Director of the Cork Cancer Research Centre, UCC and we were delighted to present to him the Lifetime Achievement Award at the 2009 Irish J Med Sci Doctor Awards.
Pictured left to right:  A close colleague/friend of Professor O'Sullivan, Professor Thomas N Walsh, Mr. Parnell Keeling. Professor Hyacinth Browne, Professor Gerald C O'Sullivan and Mr. Mayilone Arumugasamy at the annual Graves lecture of Ms. Laura Viani in June 2011