St. Luke's Lecture 2008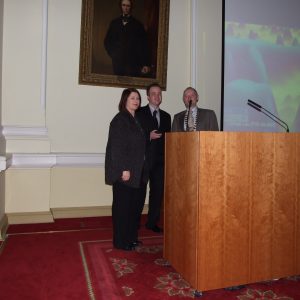 30/01/2008 in Royal College of Physicians in Ireland, 6, Kildare Street, Dublin 2
Professor William Gallagher, UCD School of Biomolecular & Biomedical Science, Conway Institute, University College Dublin
 Breast Cancer Research: A Translational Perspective
This being the thirty-second St. Luke's Lecture since its beginnings in 1975.
Pictured left to right: Dr. Caitriona O'Sullivan, St. Luke's Hospital, Professor William Gallagher and Dr. Fenton Howell, RAMI President.
Programme St Lukes Lecture 2008
For more photos click here
The lecture was preceded by the St Luke's Young Investigator Presentations
The presenters were Caroline Currid, University College Dublin; Fraser McLean Smith, Trinity College Dublin; Elaine Mc Sherry, University College Dublin and Geraldine O'Sullivan-Coyne, University College Cork
 The winner of the St. Luke's Young Investigators Award was Dr. Fraser M Smith with his paper titled:
Combination of SELDI-TOF-MS and Data Mining Provides Early-Stage Response Prediction for Rectal Tumours Undergoing Multimodal Neoadjuvant Therapy.