St. Luke's Lecture 2009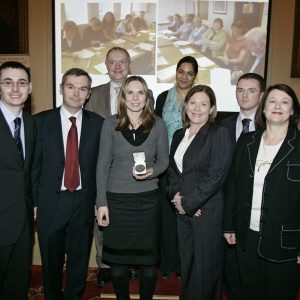 28/01/2009 in Royal College of Physicians of Ireland, 6, Kildare Street
Dr Paul V. Browne, Institute of Molecular Medicine, University of Dublin, Trinity College; National Blood and Marrow Transplant Programme,
St. James's Hospital
Stem Cell Transplantation: implications for future cancer therapy in Ireland: A Haematological Perspective.
Background and introduction:
The historical development of bone marrow transplantation was motivated by an interest in strategies designed to circumvent the irreversible bone marrow failure induced by exposure to high-dose radiation. The concept of bone marrow transplantation as a therapy for cancer emerged gradually, with the recognition that planned administration of high doses of chemotherapy or radiation were feasible if followed by an infusion of bone marrow stem cells to ensure haematopoietic recovery. Discovery of the HLA tissue compatibility system and the potent immunosuppressive agent cyclosporin enabled the widespread application of allogeneic bone marrow transplantation (allografting) from sibling or volunteer unrelated donors for the treatment of leukaemia and related disorders.
Although effective, this technology continued to have several important limitations, including high cost, substantial morbidity and mortality, and a lack of suitable donors.
The development of autologous transplantation, using the patient's own bone marrow stem cells, was related in part to a need to address these limitations. Certainly, autologous transplantation (autografting) overcame the problem of donor availability, and in a simpler, cheaper fashion, with lower associated mortality. However, autografting was found to result in much higher disease recurrence rates than allografting, demonstrating clearly the important anti-cancer properties of the allogeneic immune system, as well as the possible risks of infusing autologous stem cell material potentially contaminated by tumour cells.
A further major development in transplantation technology was the use of stem cells harvested from peripheral blood following mobilisation from the bone marrow compartment by cytokines often in combination with chemotherapy. The application of peripheral blood stem cells to support one or more cycles of high-dose chemotherapy has been tested now in many common cancers, including those of breast and lung. Despite initial optimism, this approach still appears to be of limited value except for the haematological neoplasms, particularly leukaemia, myeloma and lymphoma.
This being the thirty-third St. Luke's Lecture since its beginnings in 1975.
Programme St Lukes Lecture 28th Jan 2009
For more photos click here