St. Luke's Lecture 2010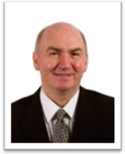 27/01/2010 in Royal College of Physicians in Ireland, 6, Kildare Street, Dublin 2
Professor John Reynolds, Professor of Surgery, TCD, St. James's Hospital, Dublin
Diet, Obesity and Cancer
Bio of Prof. John V Reynolds:
Professor John V. Reynolds is Professor of Surgery and Head of the Department of Clinical Surgery, Trinity College Dublin. He is also the Scientific Director of the Cancer Clinical Trials Office at St. James's Hospital.  He currently is the Regional Director of the Cancer Strategy Group for the HSE South Western Area and has managed Cancer Audit Systems and the development of clinical guidelines and promotional efforts for cancer care.  He has formerly held Fellowship positions with the University of Pennsylvania and Wistar Institute in Philadelphia and at the Memorial Sloan-Kettering Cancer Centre in New York.  He was a Senior Lecturer at St. James's University Hospital in Leeds and at St. Mary's Hospital and Imperial College, London. Professor Reynolds has obtained numerous research awards and has published widely in cancer research.  His hospital base is at St.James's Hospital, Dublin. His clinical interest is in cancers of the oesophagus, and stomach, and in Barrett's oesophagus and GIST tumours.   His research interest is in using modern molecular biology techniques to uncover pathways of cancer development in the oesophagus, in obesity and cancer, in the inflammatory and procoagulant response to major surgery, and in understanding why patients with oesophageal cancer respond or are resistant to chemotherapy and radiation therapy.
This being the thirty-fourth St. Luke's Lecture since its beginnings in 1975.