St. Luke's Lecture 2012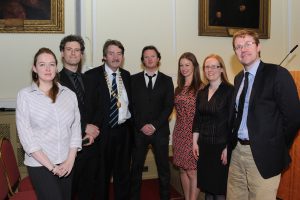 25/01/2012 in Royal College of Physicians, 6, Kildare Street, Dublin 2
Professor Joe O'Sullivan, MD FRCPI FFRRCSI FRCR, Professor of Radiation Oncology Centre for Cancer Research and Cell Biology Queen's University Belfast, Consultant Clinical Oncologist and Clinical Lead for Radiotherapy, The Northern Ireland Cancer Centre, Belfast City Hospital, Belfast, BT9 7AB, Northern Ireland.
Prostate Cancer in 2012- A Titanic Story
Summary of lecture:
Prostate cancer is the most commonly diagnosed cancer in men in the developed world and is the second biggest cause of cancer death in men. Prostate cancer is a very heterogeneous disease which can range from an incidental finding requiring no treatment to a devastating and rapidly fatal condition. The last 20 years have seen incredible developments in the diagnosis, treatment and understanding of the disease. In the lecture I will reflect on these new developments in prostate cancer drawing on experience from my own research in the field and providing insights into the current state of the art with particular reference to management of castration resistant disease, developments in radiation therapy, and the prospects for molecular stratification.
This being the thirty-sixth St. Luke's Lecture since its beginnings in 1975.
Pictured left to right: Dr Britta Stordal, Prof Joe O'Sullivan, 37th St Luke's Lecturer, Prof Tom Walsh, Past President RAMI, Dr Darran O'Connor, Winner 9th St Luke's Young Investigators Award, Dr Anne-Marie Byrne, Dr Jean McBryan, Prof Ken O'Halloran, General Secretary RAMI
Programme_St_Lukes_Lecture_25_Jan_2012
For more photos click here