St. Luke's Lecture 2013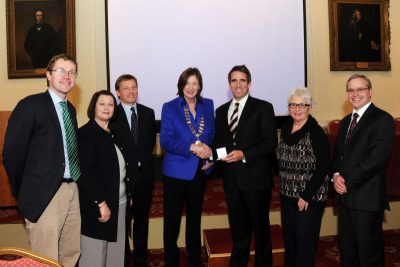 23/01/2013 in Royal College of Physicians of Ireland, No 6, Kildare St, Dublin 2
Mr. Gary Charles O'Toole, Consultant Orthopaedic Surgeon  F.R.C.S. (Tr. & Orth.), M.Ch., A.F.R.C.S.I., B.Med.Sci., B.Ch., M.B., B.A.O., B.Sc. (Hons.) will deliver the 38th Saint Luke's Lecture 2013
Soft tissue sarcoma management and orthopaedic oncology in Ireland. Are we united?
This being the thirty-seventh St. Luke's Lecture since its beginnings in 1975.
At 9:00pm a canapés and wine reception will follow in the Graves Hall.
Pictured left to right: Prof Ken O'Halloran, General Secretary RAMI, Dr Caitriona O'Sullivan and Dr Jerome Coffey, St. Luke's Hospital, Dublin,  Dr Denise Curtin, President RAMI, Mr Gary O'Toole delivered the St Lukes Lecture. Dr Susan O'Reilly and Dr Michael Capra.
Programme_St. Luke's_23_01_2013
For more photos click here