St. Luke's Lecture 2015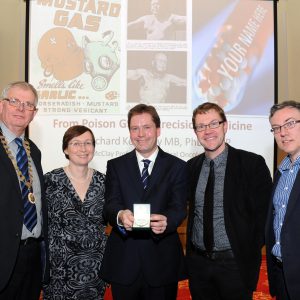 28/01/2015 in Royal College of Physicians of Ireland, 6, Kildare Street, Dublin 2
Professor Richard Kennedy, School of Medicine, Dentistry and Biomedical Sciences – Clinical Professor Centre for Cancer Research and Cell Biology
 From Poison Gas to Precision Medicine
Professor Kennedy will explain how our understanding of cancer chemotherapy has evolved over the past 100 years and his role in identifying strategies to tailor treatment for patients.
This being the thirty-ninth St. Luke's Lecture since its beginnings in 1975.
Pictured left to right: Dr. Patrick O'Sullivan, President RAMI, Dr. Orla McArdle, St. Luke's Hospital, Prof Richard Kennedy, Lecturer,  Professor Ken O'Halloran, General Secretary/Treasurer/Assistant Editor IJMS, Professor James Jones, IJMS Editor-in-Chief and Professor Bill Tormey, RAMI Executive Committee Fellow.
Programme_St Lukes Wed 28th Jan 2015
For more photos click here