St. Luke's Lecture 2016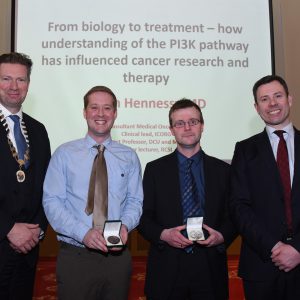 27/01/2016 in Royal College of Physicians of Ireland,
Professor Bryan Hennessy, Consultant Oncologist, Honorary Lecturer in Medicine, Adjunct Professor Department of Oncology, Beaumont Hospital, Dublin 9
 From biology to treatment – how understanding of the PI3K pathway has influenced cancer research and therapy
Summary of lecture:
The phosphatidylinositol-3-kinase (PI3K) signalling pathway has been found to play a key role in the biology of multiple cancer types. My group and others have demonstrated that aberrations in this cellular pathway are frequent events in cancer. In recent years, this pathway has thus become a major target in cancer clinical trials. A number of drugs that modulate the PI3K pathway have also become standard treatment in certain cancer types. This lecture will provide an overview of the role of the PI3K pathway in cancer biology and therapy.


This being the fortieth St. Luke's Lecture since its beginnings in 1975.
Pictured left to right: Dr Dermot Power, President RAMI, Dr Alex Eustace, Prof Bryan Hennessy, lecturer and Dr Brian O'Neill.
Programme_St Lukes Wed 27th Jan 2016
For more photos click here