History of Medicine Section, Wednesday 27th March 2019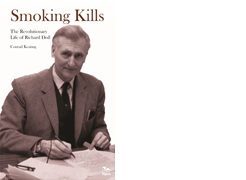 27/03/2019 in Winter Hall, RCPI, 6, Kildare Street, Dublin 2
The History of Medicine Section of RAMI and the Faculty of Public Health Medicine (RCPI) invite you to a talk by Conrad Keating
       Smoking Kills: The Revolutionary Life of Richard Doll
Conrad Keating, Visiting Professor/Writer-in-Residence, School of Medicine, TCD
Summary: Richard Doll joined the Communist Party as a reaction to the "anarchy and waste" of capitalism in the 1930s.  He treated the blistered feet of the Jarrow Marchers, served as a medical officer at the retreat to Dunkirk, and campaigned for a National Health Service before the end of the Second World War. At that time, British men had the highest incidence of lung cancer in the world.  In 1950, Doll and Bradford Hill showed that smoking was 'a cause and an important cause' of the rapidly increasing epidemic of lung cancer.  In 1989 the British Medical Journal described Doll as "Britain's most distinguished doctor".
Wednesday 27th March 2019 at 6.30pm
View Photos 
Venue: Winter Hall, Royal College of Physicians of Ireland, 6, Kildare Street, Dublin 2
All welcome. Admission is free.
Please register at ConradKeating_R Doll2019
Book Cover                                             Doll at home