History of Medicine Section, Wednesday 4th November 2020
04/11/2020 in Online Lecture
The Spanish Flu in Kenya (B.E.A.P) in 1918
The scene was reminiscent of descriptions of the Black Death in London during the seventeenth century:
Dr Susan Mullaney, MB, MA, PhD, the Medical School, Trinity College Dublin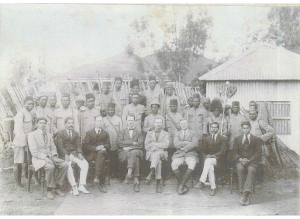 Dr Peter Clearkin was a British Medical Officer working in the British East African Protectorate (Kenya) in 1918 who left an eye-witness account of the Spanish Flu pandemic in 1918. It is estimated that approximately 17% of the population of the Western Province of the B.E.A.P died in the pandemic which killed up to 50 million people worldwide. This talk will describe Clearkin's account of the effects of the pandemic on the province and assess the events that led to the high mortality rate in this area as WW1 was pursued in east Africa.
 This event is free but registration is required. Register here Spanish Flu
Log-in details for Zoom will be emailed to all who register.