RAMI Odontology Bronze Medal Award, Thursday 18th April 2019
18/04/2019 in Large Lecture Theatre, Dublin Dental University Hospital, Dublin 2
Congratulations to Madeleine Edmonds on winning the bronze medal at our recent event.
Candidates/Presentations
Madeleine Edmonds – The clinical performance of an adhesive fixed dental prosthesis is dependent on abutment tooth preparation.
David Hendrick – Dietary assessment and advice provided to patients in relation to dental caries prevention needs to be radically rethought to improve its effectiveness.
Maria Farag – Discuss PD-1 (anti-programmed death 1) and its use in Head and Neck squamous cell carcinoma therapy.
Mohamed El Azrak – Antibiotic prophylaxis may not be indicated for prevention of dental implant infections in healthy patients.
View Photos 
Photos kindly supplied by Dr. David McReynolds
1 General CPD point
Roberta Swanwick, Secretary, RAMI-Odontology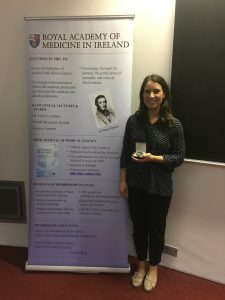 Dr. Madeleine Edmonds, medal winner.