Robert Graves Lecture 2022_Professor Derek O'Keeffe
15/12/2022 in Virtual
Digital Health:  Humans 2.0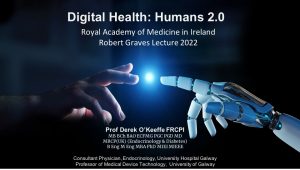 Robert Graves (1796-1853) was an outstanding physician who both embraced (e.g. stethoscope) and invented (e.g. second hand on watches) analogue technology to improve human health. This 2022 RAMI Robert Graves lecture will explore the exciting potential of modern digital health technology separating science fiction from science fact. It will incorporate some of my own research work, which has been centered around using (e.g. virtual consults) and developing  (e.g. medical drones) digital technology to improve patient care. We will first explore the recent Cambrian explosion that has occurred in Information Computer Technology (ICT) and discuss its applicability in the clinical domain. In particular we will examine how, due to the success of modern medicine, people are living longer but how this has resulted in an increase in chronic disease burden. Digital health technologies offer a unique opportunity to both manage these chronic conditions (e.g. Diabetes Mellitus) and also to move the medical lens from disease treatment to prevention, keeping people living healthier for longer. This lecture will introduce state of the art topics such as big data, artificial intelligence, robots, mixed reality and show how they are finding real applications at the bedside and in patients' lives (e.g. dynamic appointments). In addition, we will outline next generation digital health technologies (e.g. smart stents)  that can give humans unprecedented knowledge about themselves, an evolutionary step towards Humans 2.0.
Prof. Derek O'Keeffe 
MB BCh BAO ECFMG PGC PGD MD FRCPI
MRCP(UK) (Endocrinology & Diabetes)
B Eng M Eng MBA PhD MIEI MIEEE
Bio. : Prof Derek O'Keeffe is a Physicianeer who holds dual first-class honors degrees and doctorates in Medicine and Engineering.  He was a Fulbright Scholar at Harvard, a Green Templeton Scholar at Oxford, and is a graduate of the Endocrinology Clinical Fellowship at the Mayo Clinic, USA. As well as multiple academic publications, he holds biomedical patents and several international research prizes. He has previously worked with NASA placing a sleep experiment onboard the International Space Station and was their flight surgeon for a NEEMO Aquarius mission. He has explored over 110 countries, volunteered extensively & was awarded The Outstanding Young Person of the World by Junior Chamber International. He is a Black Belt Taekwondo Instructor, Qualified Pilot, Advanced Scuba Diver & Triathlete.  In 2022 he designed an award-winning Cardiovascular themed garden for Bloom in the Phoenix Park. He was recently awarded a first-class honors MBA degree and is the new HSE National Clinical Lead for Diabetes. He is a Consultant Physician (Endocrinologist) at University Hospital Galway and is the Professor of Medical Device Technology at the University of Galway.
Consultant Physician
SAOLTA Clinical Lead Endocrinology, University Hospital Galway, Ireland
Professor of Medical Device Technology, University of Galway, Ireland
Digital Health Principal Investigator, LERO, University of Limerick, Ireland
https://www.ted.com/talks/derek_o_keefe_digital_doctors_the_future_of_medicine
https://www.linkedin.com/in/prof-derek-o-keeffe-206896172/
https://lero.ie/people/derek-okeeffe
The lecture is starting at 7:00 pm, please arrive at the virtual meeting at least 5 minutes beforehand. The link to join will be emailed to all who register, on the 15th of December.
Join on your computer, mobile app or room device
Click here to join the meeting
Meeting ID: 331 330 095 093
Passcode: Q2KVSP
Download Teams | Join on the web